Posts for tag: dental implants
By Carolyn DeVito
October 13, 2021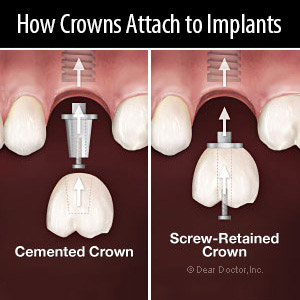 If you've decided on a dental implant to replace a missing tooth, you've made a great choice. Implants are a big favorite of both dentists and patients, not only for their life-likeness, but also their durability. Studies show that more than 95% of implants survive after ten years.
As you may know, single tooth implants are composed of two main parts: a metal post (usually titanium) imbedded in the jawbone; and a life-like crown affixed to the end of the post. But what you may not know is that there are two ways to attach the crown—either with screws or with dental cement.
Neither way is superior to the other—both have their own set of advantages and disadvantages. A cemented crown, for instance, usually looks more like a natural tooth than a screw-retained crown (more about that later) and dentists have more flexibility in making them look natural.
But cemented crowns require an additional piece of hardware called an abutment to better match it with the implant, something unnecessary with a screw-retained crown. Some people can also experience a reaction to the cement resulting in inflammation or even bone loss. And once installed, removing the crown later for repair or replacement is much more difficult than with a screw-retained crown.
Besides attaching directly to the implant, screw-retained crowns don't require cement and are more easily attached and removed. But the screw-hole can pose some aesthetic problems: Although it can be filled with a tooth-colored filling, the tooth's appearance isn't as ideal as a cemented crown.
So, which one is best for you? That will depend on the type and location of teeth being replaced, as well as your dentist's preferences. For instance, a more attractive cemented crown may be better for a visible front tooth, while a screw-retained crown might be a good choice for a back premolar or molar where appearance isn't as big a factor.
In the end, it's likely your dentist will discuss the pros and cons for each method as it pertains to your individual case. Whichever way your crown attaches, the end result will still be a life-like tooth that could last you for years to come.
If you would like more information on dental implants, please contact us or schedule an appointment for a consultation. You can also learn more about this topic by reading the Dear Doctor magazine article "How Crowns Attach to Implants."
By Carolyn DeVito
September 23, 2021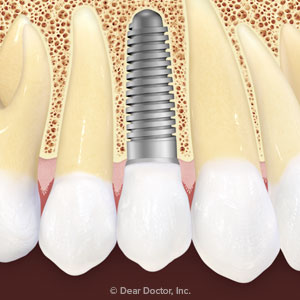 Getting dental implants is going to require surgery. But don't let that concern you—it's a relatively minor procedure.
Currently the "gold standard" for tooth replacement, an implant consists of a titanium post surgically imbedded in the jawbone. We can affix a life-like crown to a single implant or support a fixed bridge or removable denture using a series of them.
Because placement will determine the restoration's final appearance, we must carefully plan implant surgery beforehand. Our first priority is to verify that you have adequate jawbone available to support an implant.
Additionally, we want to identify any underlying structures like nerves or blood vessels that might obstruct placement. We may also develop a surgical guide, a retainer-like device placed in the mouth during surgery that identifies precisely where to create the holes or channels for the implants.
After numbing the area with local anesthesia, we begin the surgery by opening the gum tissue with a series of incisions to expose the underlying bone. If we've prepared a surgical guide, we'll place it in the mouth at this time.
We then create the channel for the insert through a series of drillings. We start with a small opening, then increase its size through subsequent drills until we've created a channel that fits the size of the intended implant.
After removing the implant from its sterile packaging, we'll directly insert it into the channel. Once in place, we may take an x-ray to verify that it's been properly placed, and adjust as needed. Unless we're attaching a temporary crown at the time of surgery (an alternate procedure called immediate loading), we suture the gums over the implant to protect it.
Similar to other dental procedures, discomfort after surgery is usually mild to moderate and manageable with pain relievers like acetaminophen or ibuprofen (if necessary, we can prescribe something stronger). We may also have you take antibiotics or use antibacterial mouthrinses for a while to prevent infection.
A few weeks later, after the bone has grown and adhered to the implant surface, you'll return to receive your new permanent crown or restoration. While the process can take a few months and a number of treatment visits, in the end you'll have new life-like teeth that could serve you well for decades.
If you would like more information on dental implants, please contact us or schedule an appointment for a consultation. You can also learn more about this topic by reading the Dear Doctor magazine article "Dental Implant Surgery."
By Carolyn DeVito
July 25, 2021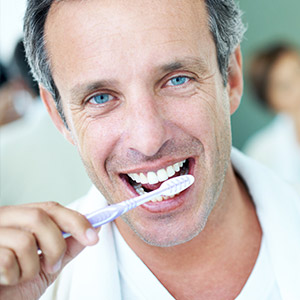 Your teeth can take decades of daily biting and chewing and not miss a beat. But they do have a nemesis, dental disease, which can easily get the upper hand. As a result, millions of people lose teeth each year to tooth decay and periodontal (gum) disease.
But while both the living tissue that makes up teeth and gums are susceptible to bacterial attack, the non-living materials in a life-like dental implant are impervious to disease. That being the case, you would think your implants wouldn't need as much hygiene as your other teeth.
But they still do. True, implants in themselves aren't affected by infection, but the bone and other tissues that support them can become diseased. This often happens with advanced cases of gum disease.
There is, in fact, a particular form of gum infection associated with implants called peri-implantitis ("peri"—around; "it is"—inflammation), which occurs in the gums around an implant. Once it starts, peri-implantitis can advance at a rapid pace.
This is because implants don't have the gum attachment of real teeth, which can fight and slow the advance of a gum infection. Because an implant doesn't have this attachment, any infection around it continues virtually unimpeded. If the bone supporting an implant becomes infected, it can weaken to the point that the implant fails.
But this dire scenario can be avoided with continuing hygiene and maintenance of the gum tissues surrounding the implant. You should brush and floss every day around implants to remove dental plaque, the bacterial film most responsible for dental disease, just as you do with natural teeth.
It's also important to keep up regular dental visits for cleanings to remove lingering plaque and tartar (hardened plaque). Your dentist may also notice and clean away any residual cement from the restoration, which can also cause gum inflammation.
And, you should promptly see your dentist if you notice any telltale signs of a gum infection, such as swelling, redness or bleeding, especially around implants. The quicker we diagnose and treat a case of gum disease, particularly peri-implantitis, the less likely it will endanger your implant.
If you would like more information on maintaining dental implant restorations, please contact us or schedule an appointment for a consultation.