Posts for: November, 2021
By Carolyn DeVito
November 12, 2021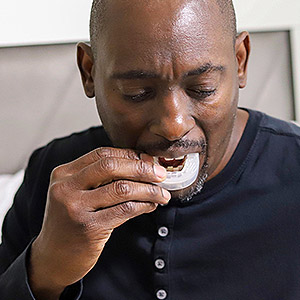 Morning tiredness, brain fog and snoring are just some of the indicators of a medical condition known as sleep apnea. And, it's worse than waking up on the wrong side of the bed—over time, sleep apnea could increase your risk for heart disease or other life-threatening conditions.
Sleep apnea occurs when air flow becomes restricted during sleep, usually by the tongue blocking the airway. As oxygen levels begin to fall, the brain signals the body to wake up to "fix" the air flow problem.
As this arousal may only last a second or two, you may not remember it when you awaken in the morning. But it can happen numerous times a night, depriving you of the deep sleep your body needs for rest and repair.
Fortunately, there are ways to treat sleep apnea. In extreme instances, you may need surgery to correct anatomical defects causing the condition. For most cases, though, the most common treatment is continuous positive airway pressure (CPAP) therapy, which consists of a portable pump delivering pressurized air through a face mask that keeps the throat open while you sleep.
Used by millions of patients, CPAP can be quite effective. Some patients, though, feel uncomfortable using a CPAP machine for various reasons. If you're one of those unhappy CPAP campers or you would like to consider a possible alternative, your dentist might have the answer: oral appliance therapy (OAT).
An OAT device is worn in the mouth during sleep to prevent the tongue from falling back against the back of the throat and blocking the airway. There are various forms of OAT appliances, but they're all custom-made by a dentist to fit an individual patient's mouth. They work best for mild to moderate sleep apnea in which the tongue is the primary culprit in airway blockage.
If you suspect you may have sleep apnea, you should undergo a complete examination by a doctor or dentist to confirm it. If you've been diagnosed with mild to moderate sleep apnea, talk to your dentist about an OAT device. You may find OAT can provide you the relief you need for a better night's sleep.
If you would like more information on oral treatments for sleep apnea, please contact us or schedule an appointment for a consultation. You can also learn more about this topic by reading the Dear Doctor magazine article "If You Snore, You Must Read More!"
By Carolyn DeVito
November 02, 2021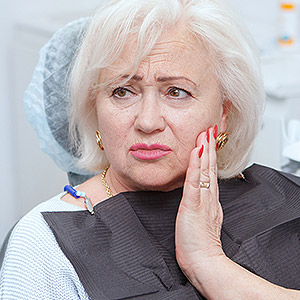 Although there are several potential problems people could encounter involving their teeth, gums or mouth, most fall into three basic categories. That's the finding of a recent survey conducted by the American Dental Association of more than 15,000 U.S. adults.
These categories are a triad of symptoms, each of which could arise from a variety of causes. If you're encountering any one of these, you should see your dentist as soon as possible.
Tooth pain. A toothache—or any form of pain from the mouth—could be sign of a number of possible issues. It could mean you have a decayed tooth, especially if the pain is sharp and localized. It could also indicate a gum abscess (accompanied by red and puffy gums), a sinus or ear infection, or inflammation of the jaw joints. The intensity, duration and location of the pain are all clues to its actual cause and what treatments it might require.
Biting difficulties. Does it hurt when you bite down? Among other things, you could have a loose tooth or one that's deeply decayed. The former could be the sign of advanced gum disease, which itself must be treated and the tooth stabilized (splinted) to other teeth. If the problem is advanced decay, you may need a root canal to remove diseased tissue from within the interior of the tooth, which is then filled and crowned to prevent re-infection.
Dry mouth. We're not talking about that "cotton mouth" feeling we all get now and then. This is a chronic condition known as xerostomia in which the mouth feels dry all the time. Xerostomia has several causes including smoking or treatments for cancer or other serious diseases. It might also be a medication you're taking, which has reduced your mouth's saliva production. Because dry mouth could lead to dental disease, you should take steps to relieve it.
Even if you're not having symptoms like these, there may still be something going on in your mouth that needs attention. That's why you should see your dentist on a regular basis, besides when you notice a problem, to keep your oral health in tip-top shape.
If you would like more information on potential teeth and gum problems, please contact us or schedule an appointment for a consultation.