Posts for: June, 2021
By Carolyn DeVito
June 15, 2021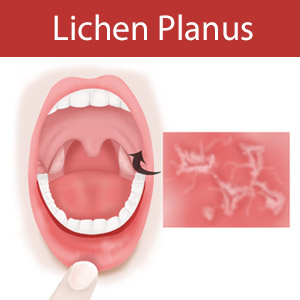 Most of what goes on inside our mouths—good or bad—is fairly predictable. But every now and then, people encounter something out of the ordinary. A good example is lichen planus.
Lichen planus are rare skin lesions that can occur on various parts of the skin, including inside the mouth. The name comes from their lacy appearance, which resembles a fungus that grows on rocks or trees called lichen.
Being similar in appearance, though, is all that lichen planus has in common with its fungal namesake. It's believed that the sores are caused by a reaction of the immune system mistaking some of the body's cells as foreign.
But don't let the exotic sounding name alarm you—true lichen planus is considered a benign mouth sore. You may not even realize you have it until your dentist notices and points it out. But the lesions can sometimes cause mild pain or burning, especially if they occur near the gums or if you indulge in spicy or acidic foods.
As we said, these lesions aren't considered dangerous. But in a small number of cases, oral cancer was found to develop later. It's unclear whether the lesions were related to the cancer, or if what were diagnosed as lichen planus lesions were actually pre-cancerous cells mimicking the appearance of the benign sore.
In any event, your dentist will probably continue to monitor the lesions and possibly conduct regular oral cancer screenings to be on the safe side. You may also want to stop using tobacco or alcohol products to further decrease your risk of oral cancer.
As to managing lichen planus, it starts with a daily habit of brushing and flossing. You'll also want to avoid spicy or acidic foods like citrus fruits, tomatoes, peppers or caffeinated drinks, especially during flareups. If the lesions are causing discomfort, your dentist may also prescribe a topical steroid to apply to them.
Since it's quite possible you won't know if you have lichen planus (as well as other types of mouth sores) unless your dentist observes them, you should keep up regular dental visits. Having your dentist check your entire mouth, not just your teeth and gums, will help both of you stay on top of your oral health.
If you would like more information on mouth sores, please contact us or schedule an appointment for a consultation. You can also learn more about this topic by reading the Dear Doctor magazine article "Lichen Planus."
By Carolyn DeVito
June 05, 2021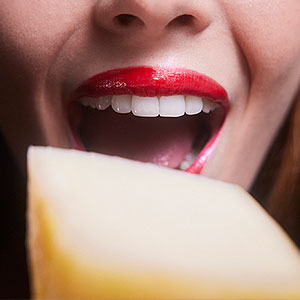 Here's a bit of magic: Hold your smart phone camera in front of someone and say, "Cheese!" More times than not, they'll break into a smile. No one knows for sure the origin of this grin-inducing phrase, but it works like a charm. And it's quite appropriate too! That tasty aging of proteins and fat also helps to keep the stars of our smile—our teeth—in good health.
In the fight against tooth decay and gum disease, daily oral hygiene—brushing and flossing—and regular dental visits get top billing. But nutrition is also a critical factor for great dental health.  A diet low in sugar and processed foods and rich in whole foods can also lower your dental disease risk.
Dairy is an important part of this "tooth-friendly" eating. In recognition of National Dairy Month this June, here's how products like milk and cheese can help you maintain a healthy—and photogenic—smile.
Nutrients. Dairy products like milk and cheese are chock full of vitamins and minerals. Two of the most important are calcium and phosphorous, both of which the body uses to build strong bones and teeth. The micronutrient Vitamin D found heavily in dairy helps regulate these important minerals so that they're available for teeth.
Reduced decay risk. Cheese and other dairy products do contain a form of sugar called lactose. But it has a milder effect within the mouth than other sugars, particularly sucrose (refined sugar): While bacteria readily feed on sucrose and release enamel-eroding acid as a by-product, they're less likely with lactose. Even so, there's still a risk, albeit lower, of lactose leading to tooth decay, so go easy on consumption.
Acid buffering. Speaking of acid, cheese in particular seems to contribute to neutralizing this bacterial byproduct. It's believed it does this by stimulating saliva production, which is the body's primary means for restoring proper pH balance in the mouth after eating. So, eating a little cheese during or after consuming a food with sugar may help offset any acid resulting from the sweet snack.
Cheese and other dairy products are a good source of protein, but also fat, so they should be consumed in moderation for overall health. But nibbling on a bit of Gouda, Havarti or Mozzarella can be a good thing for your teeth—and make it more likely you'll smile wide for the camera.
If you would like more information about the role of nutrition in better dental health, please contact us or schedule a consultation. To learn more, read the Dear Doctor magazine article "Nutrition & Oral Health."